Resizing a UIWebView to fit with a fixed width
17 Aug 2010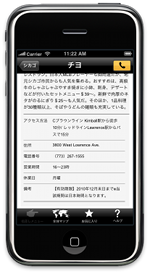 UIWebView is great for displaying hightly formated content, but sizing the frame correctly can be tough at times. Recently, I was using a UIWebView to display formated content and I needed to resize it display all of it's contents. The standard way to automatically resize a UIView to fit its contents is to call sizeToFit. Calling sizeToFit on the UIWebView in the -(void)webViewDidFinishLoad:(UIWebView *)webView UIWebViewDelegate method works nicely... almost.
My problem was that I wanted the width to be fixed and change only the height but sizeToFit automatically changes both, causing the content to run off the edge of the screen.
However, there is a neat little trick.
By calling the UIWebView's& stringByEvaluatingJavaScriptFromString method it is possible to interact with the content of the UIWebView. From there it is easy to get the content size and resize the UIWebView's frame accordingly.
And away you go.